Arizona Safe Baby Haven Foundation
Number of Newborn Lives Saved in Arizona
Number of Newborn Lives Saved Nation Wide
Number of Hotline Calls in Arizona
What We Do
Arizona Safe Baby Haven Foundation is a registered 501c3 nonprofit consisting of volunteers. Our mission is to promote education and awareness on the existence of the safe baby haven law in Arizona and across the United States.
Passed in 2001, Arizona's Safe Baby Haven Law states that a person will not face criminal charges for physically handing over an unharmed newborn baby within the first 72 hours after birth with a Safe Haven provider.
Safe Haven Provider means any of the following:
Fire Station's (On-Duty)

EMT (On-Duty)

Hospital

Private Child Welfare Agency (Must Have Signs Posted)

Adoption Agency (Must have signs posted)

Church (Must have signs posted)
Arizona Safe Baby Haven Foundation was recently awarded the 12 Who Cares Honoree for the month of August 2016. Please take a moment to watch the video above to learn about our organization, and to hear the amazing story of a family's journey adopting one of the 37 Arizona safe haven babies.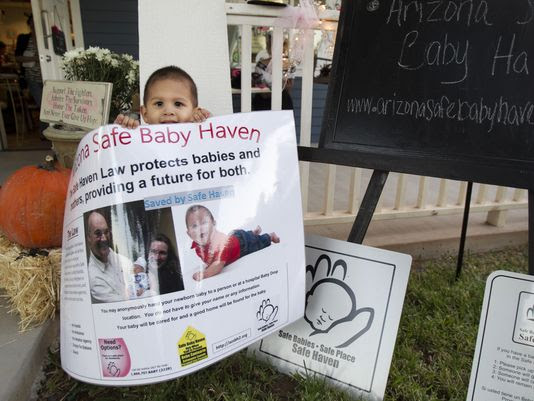 "The pain will always be in you?—
but you will not always be in pain."
"The most precious thing I have to give –
is my time."
"Sometimes when life doesn't work out as you planned, there is a greater force at work."
If you need help, call our hotline anytime. For general inquiries please Contact Us:
1-866-707-2229
Help available 24 hours a day, 7 days a week.
FEATURED POST
An Inspired Poem From A Safe Baby Haven Volunteer
I read about a newborn baby found cold and shivering in a dumpster with little hope of life…
Love is a fruit in season at all times, and within reach of every hand. It is the greatest gift anyone can give.